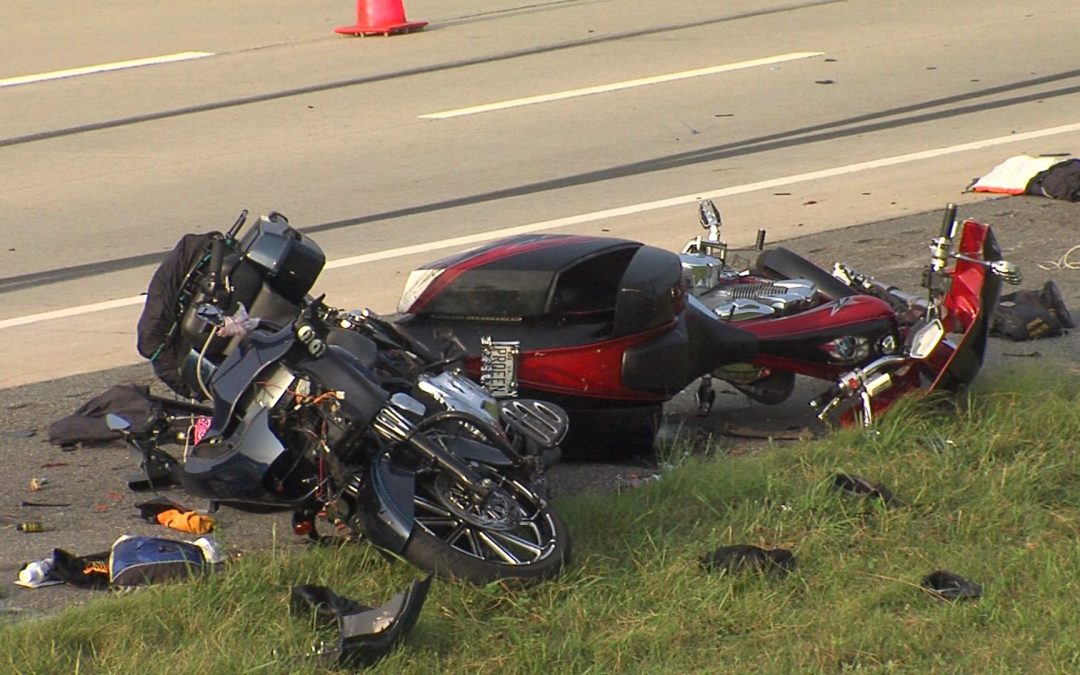 What Is the Number One Cause of Motorcycle Accidents?
Motorcycles are incredibly popular throughout the United States, and every motorcycle owner and operator must understand the very real possibility of enduring motorcycle accidents. Unlike passenger vehicles, motorcycles offer no physical protection from a crash, nor do they provide safety features like airbags to reduce crash impact forces. If you own a motorcycle or plan on purchasing one, it's important to know the leading causes of motorcycle accidents in California and throughout the country.
Available data indicates that the leading cause of motorcycle accidents throughout the country is speeding. It's logical to infer that this statistic includes motorcycle accidents caused by both speeding motorcyclists as well as other drivers speeding near motorcyclists.
What Percentage of Motorcycle Accidents Are Caused by Cars?
Traffic collision data reports that about 34% of motorcycle accidents are single-vehicle accidents, meaning the motorcycle is the only vehicle involved. This indicates that the majority of motorcycle accidents involve one or more other vehicles. It's difficult to determine whether motorcyclists or other drivers are responsible for these accidents, but drivers of passenger cars can cause serious motorcycle accidents in several ways:
Driving under the influence (DUI) is extremely dangerous for any driver, but motorcyclists are especially vulnerable to the actions of nearby impaired drivers.
Motorcycles are smaller and harder to spot than most other vehicles, and distracted driving could easily cause a driver to collide with a nearby motorcyclist.
Aggressive driving is extremely dangerous to all other drivers, but motorcyclists are especially vulnerable. If you encounter aggressive driving on the road, it's best to avoid the aggressive driver and put as much distance between yourself and them as possible.
Poor vehicle maintenance can also contribute to a crash. All drivers and motorcyclists must maintain their vehicles and address known mechanical issues promptly.
These are only a few of the ways car drivers can cause devastating accidents involving motorcyclists. All drivers need to acknowledge their duty of care to others on the road and obey traffic laws as they operate their vehicles as safely and attentively as possible.
What Are the Odds of Dying in a Motorcycle Accident?
The National Highway Traffic Safety Administration (NHTSA) reports that out of every 100,000 motorcyclists, 72 will experience a fatal accident. This may equate to a relatively low statistical chance of dying in a motorcycle accident, but this does not mean motorcyclists should ignore the very real of a serious accident while riding.
What Is the Most Common Motorcycle Injury?
Data from the NHTSA reports that lower extremity injuries are the most common injuries experienced by victims of motorcycle accidents. However, this is not the only injury possible in a motorcycle accident. While California state law requires all motorcycle riders and passengers to wear appropriate helmets, many victims of motorcycle crashes experience severe head and neck injuries, some of which cause permanent disabilities. Motorcycle accidents may also cause severe compound bone fractures, internal organ injuries, and a host of other serious injuries that may entail long-term medical complications and significant expenses.
How Likely Is it to Crash a Motorcycle?
The risk of crashing a motorcycle is statistically quite low, but each individual motorcyclist must take responsibility for their actions while riding. You can reduce your risk of experiencing a motorcycle accident by following posted traffic signals and signs, driving defensively, and investing in motorcycle safety and training courses to help you become more familiar with your motorcycle before taking it out on busy roads.
Proving Fault for a Motorcycle Accident
If you or a loved one experienced a motorcycle accident recently, liability for the incident may not be immediately clear. As your initial damages create further financial problems for you and your family, you might wonder what you can possibly do to recover. If you believe another driver is responsible for your recent motorcycle accident, it's vital to know how to prove their liability and hold them accountable for your damages.
The first step is positive identification of the party responsible for your accident. This may require you to work with an experienced attorney who can help you obtain traffic camera footage, cell phone records, and other data that can potentially help you build your case. Once you and your legal team have identified the defendant in your claim, you can begin building your case with your evidence, the police report from the accident, and a medical report from your physician outlining the full extent of your injuries.
Damages and Compensation in a Motorcycle Accident Case
Motorcyclists who experience accidents often suffer serious injuries. Available accident data shows that about 80% of motorcycle accidents result in serious injury or death. Motorcycle accidents can easily cause many damages, including:
Severe injuries and medical expenses. Broken bones, head injuries, internal organ damage, and spine injuries are just a few of the injuries possible from a motorcycle accident that can lead to expensive medical bills.
Lost income. A motorcycle accident can leave the victim unable to work for an extended time. It's possible to claim lost wages as damages in a motorcycle accident lawsuit.
Property damage. Motorcycles involved in accidents, especially serious ones, often sustain critical damage, resulting in either expensive repair bills or replacement costs. These property damages are also claimable under personal injury law.
Pain and suffering. If a motorcyclist suffers severe injuries that cause lasting harm, California law allows them to receive compensation for physical pain and emotional trauma resulting from their accidents.
Due to the serious nature of most motorcycle accidents caused by negligent drivers, an injured rider can potentially secure a significant amount of compensation for their losses with the help of a reliable and experienced attorney.
If you believe another party is responsible for a recent motorcycle accident that injured you or a loved one, call our firm. The right attorney can be your best ally as you work toward securing compensation for your losses. The Law Offices of Susan Handel is available to help you determine the best legal options for recovering your losses. Contact us today to learn more about what our firm can do for you.