California's Most Trusted & Experienced Motorcycle Accident Lawyer
Susan Handel
Multi-Million Dollar Results!
Important Points to Consider Before You Choose Your Motorcycle Lawyer
---
You've likely seen TV commercials, billboards, social media posts and related massive paid advertising for motorcycle accident cases. Don't be misled by the massive paid advertising because that doesn't tell you anything about the individual lawyer or legal team who will be handling your case. Susan Handel does not need to resort to paid massive advertising. Her reputation and track record speak for themselves. Her best referral sources continue to be her former clients, who have seen first hand what she is able to achieve.

Here are some good points to keep in mind when you want to choose the best motorcycle lawyer:

1) Word of mouth referrals are worth their weight in gold.

2) When you first contact a lawyer's office, make sure you are speaking with a lawyer, and not just an office assistant. It is important to verify the identity and actually speak to the lawyer who will be handling your case. You may be surprised to learn that "the attorney" you are calling does not even exist. You may also be surprised to learn that your case has been farmed out to a lawyer who was paying hefty advertising fees and had no real experience with motorcycle cases.

3) Ask lots of questions to the lawyer. If the lawyer can't answer your questions, or the answers don't make sense to you, you should be very concerned.

4) Make sure the lawyer specializes only in personal injury law and that a very high percentage of their case load is motorcycle accidents. Ask the lawyer how many motorcycle accidents they have handled.

5) Make sure the lawyer has the ability to refer you to superior medical providers. This is especially important if you have sustained serious injuries in your motorcycle accident. Superior medical providers are best able to give you all of the treatment you need in order to recover as fully as possible from your injuries. Superior medical providers can also act as experts for your case.

6) Make sure your lawyer has the necessary funds available to pay for case expenses. For example, this can include expert witnesses, motorcycle and site inspections, depositions, investigations, diagrams and animations, medical/legal reports to advocate your case.

7) Check out the lawyer's website. This is important for several reasons. First, you will get an idea of what kind of cases the attorney handles. Second, you can see what other clients have to say about the lawyer. Live testimonials from actual clients can be powerful verification of a lawyer's work and reputation.

8) Make sure you call California's Most Trusted & Experienced Motorcycle Lawyer- Susan Handel.
She offers Free-Confidential Consultations 24/7. There is no attorney fee until she wins your case.
FREE CONFIDENTIAL CONSULTATIONS 24/7
TOLL FREE:  800.564.1164
EMAIL:  susan@handellaw.com
OUR WEBSITE: handellaw.com
Zoom-Home-Hospital & Office Consultations For Your Convenience
Our Clients Are Our Best Referral Sources!

Catastrophic Truck v. Motorcycle Accident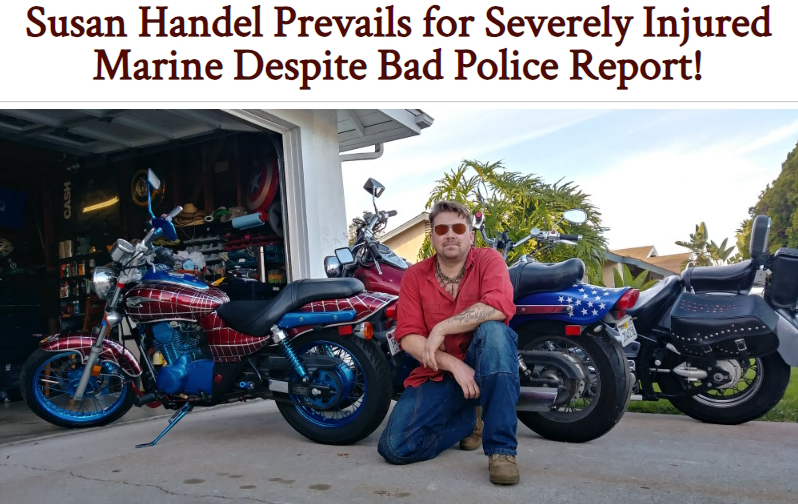 Matthew Bonus
Catastrophic Motorcycle Accident – $1.5 Million Dollar Settlement 
Catastrophic Motorcycle Accident – Confidential Multi-Million Dollar Settlement

Bryant Layton
Catastrophic Motorcycle Accident – Confidential Settlement!

Truck v Motorcycle Accident – Police report places motorcyclist at fault – $2 Million Dollar Settlement

She's the best in the business! 
Steve Cook, Former Client

Vehicle v Motorcycle Accident – Confidential Settlement
We do Auto and Truck cases too!
---
We Do Truck Accidents Too!

ENTER NOW TO WIN $1000 VISA GIFT CARD!
---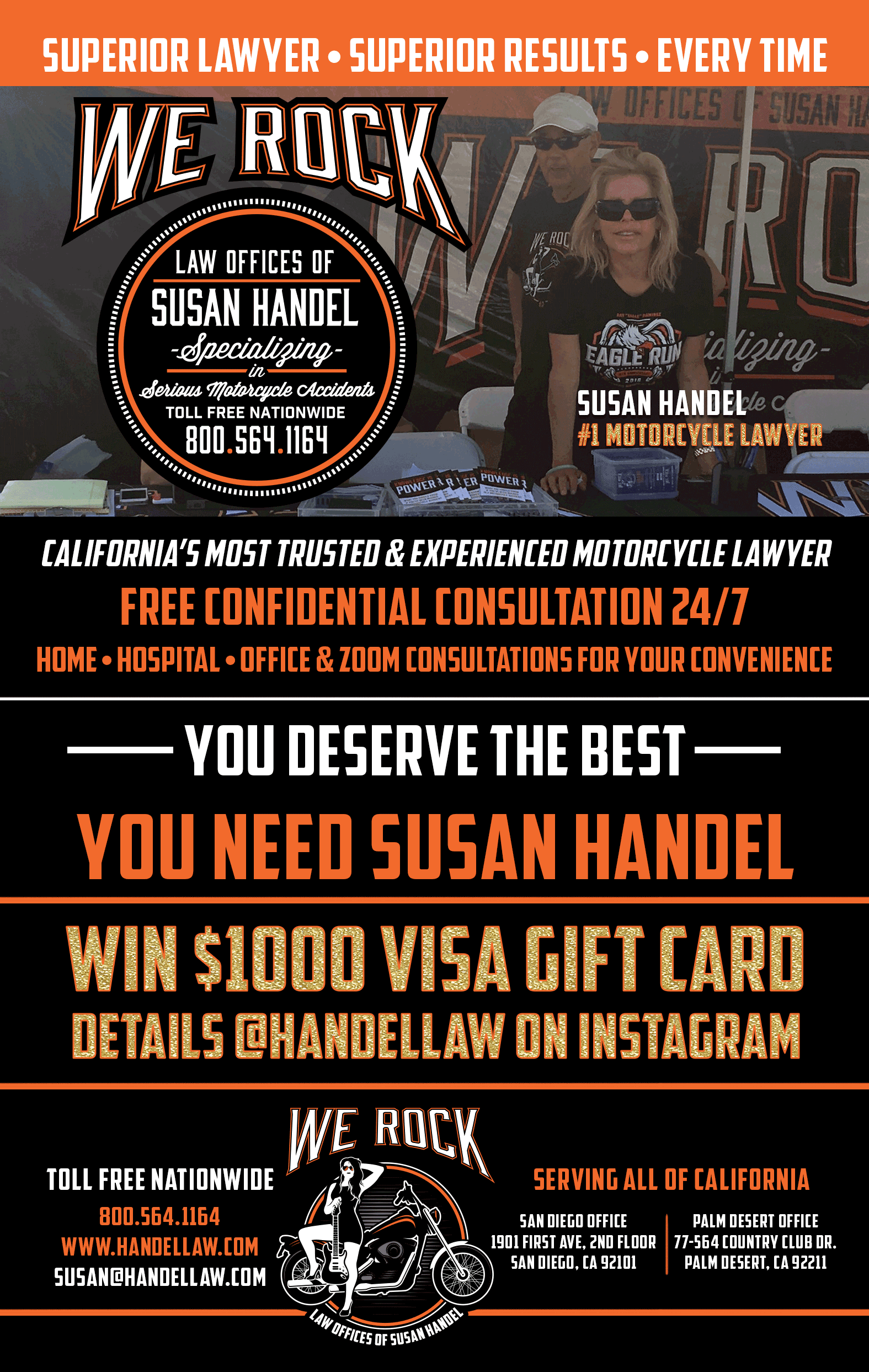 How to Enter
1. Follow @handellaw on Instagram
2. Like this post
3. Tag 2 friends
BONUS 2nd ENTRY: share this post to your story and tag @handellaw
Starting September 1st, 2023, for three consecutive months, Susan will draw a winner on the 1st of every month. Your entries will qualify for all three drawings and qualify for a fourth drawing in December, which will include a mega-Visa gift card giveaway for a lucky winner.